Mobile BI Application
FineMobile supports business performance monitoring and data updating at any time and any place and on any mobile device.
Management Layer
FineMobile supporting creating multi-dimensional 3D mobile dashboards. When you are in a business trip, by taking a look at the FineMobile, you will have clear insights into key business indicators, find problems anytime and anywhere, and exert management pressures, to promote the conclusion of the deal.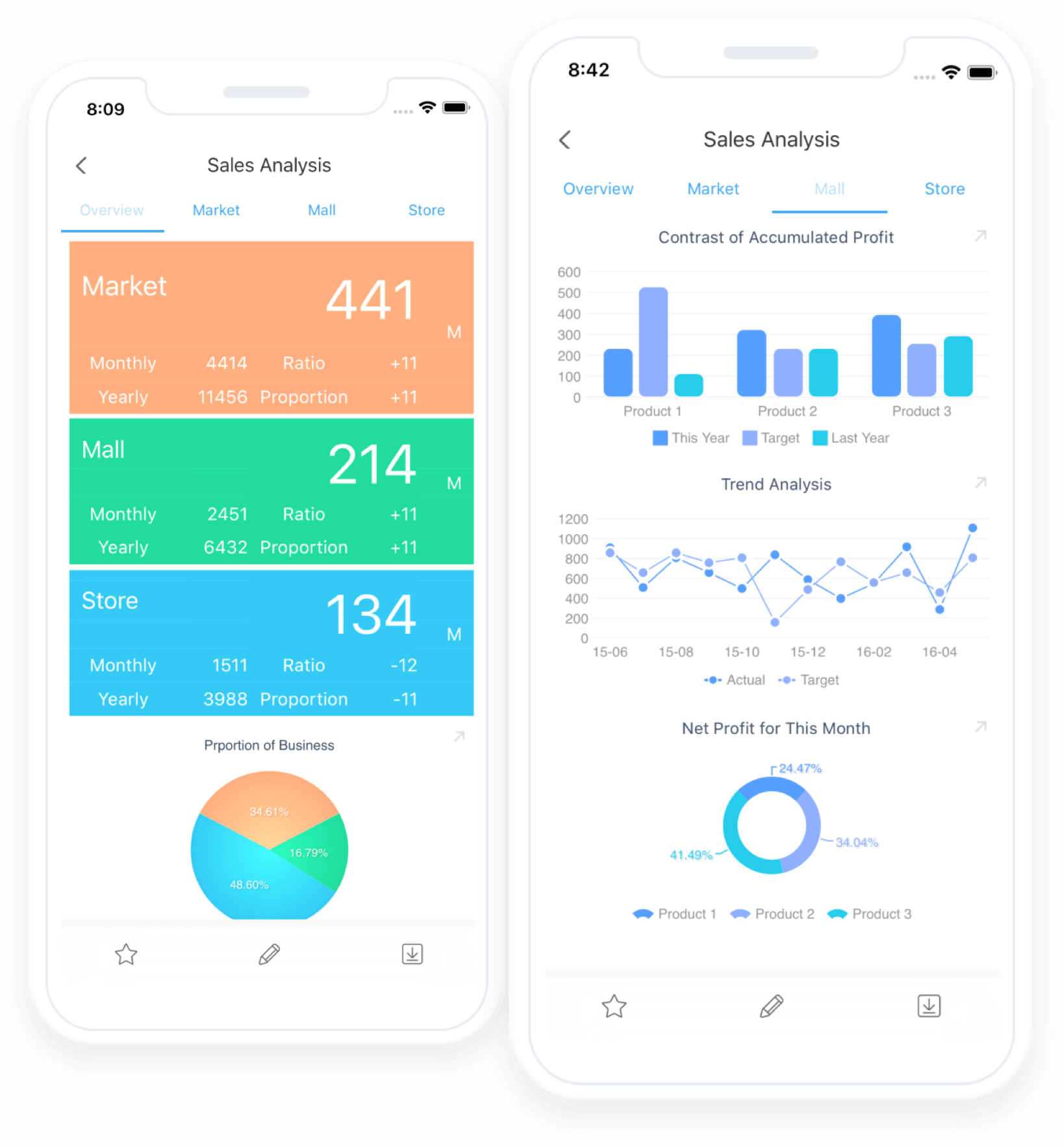 Data Analysis in Your Pocket
FineMobile supports comprehensive data analysis, and its function experience is as cool as that of the PC side. FineMobile also has the unique advantages of mobile devices.
Drilling & Linkage ●
The mobile-side chart components support pivot operations such as drilling down and also supports analysis functions such as data linkage between charts.
Parameter Query ●
FineMobile supports parameter query. Users are allowed to use the query button under bottom-funnel button for data filter and display
Message Push ●
FineReport supports the setting of timing frequency and trigger conditions to push messages to the APP side or supports the integration with WeChat, Line and other apps to realize real-time data notification and warning.
Scanning & Inputting ●
FineMobile supports QR code or barcode scanning with mobile phone camera. Users are allowed to make data query and data entry by scanning QR code or barcode.
Mobile Data Entry ●
Data entry in FineMobile supports various types of widgets , data validation, and submission for temporary storage, so that users can collect data anytime and anywhere.
● Annotation Sharing
Users are allowed to make handwriting annotations and share them to colleagues by email or WeChat for further discussion and collaboration on the mobile terminals.
● Photo Uploading
FineMobile supports photo uploading, submission and saving with mobile phone cameras.


● Offline Viewing
FineMobile supports offline report viewing. When the network environment is not good or network traffic is limited, the offline mode will be enabled.
● Pinch-Zoom Gesture
FineMobile supports pinch-zoom gesture and click zooming to view the details of chart components. The flexible interaction gives you a smooth experience.
● Security Guarantee
FineMobile inherits data permission settings from the PC side, binds MAC address to mobile devices, and supports VPN channel encryption, to escort mobile data security
Practical Mobile BI Application Case
Eastern Finance Network
The Eastern Finance Network has built a mobile business data analytics platform for middle and senior executives at the headquarters and branch offices to make real-time business data query and analysis, compare the operation data of each branch office, and analyze the operation trend of the financing platform. Besides, FineMobile take full consideration of the layout, match colors, interactions and other elements in report design, so that the generated reports are pleasing to the eye and easy to use.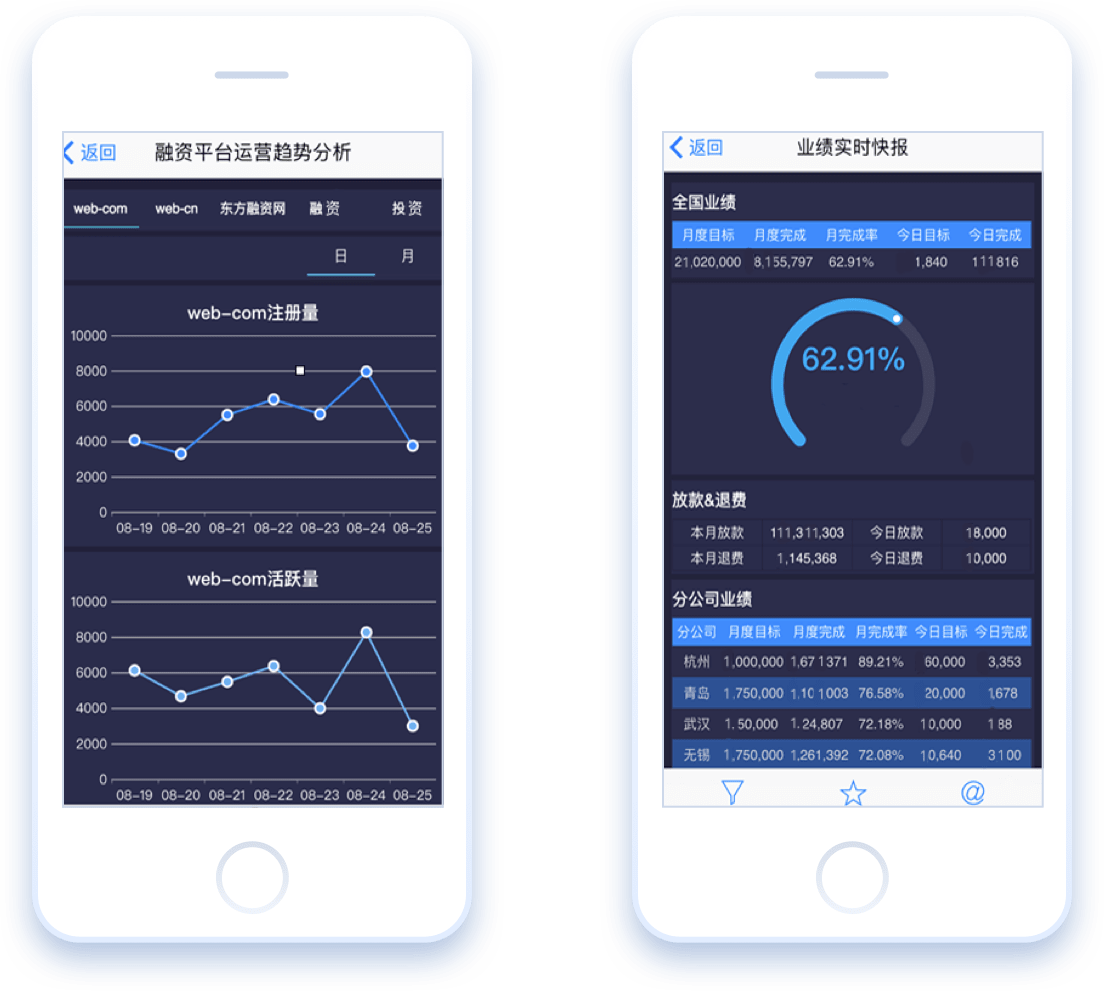 Large Screen & TV Dashboard
You can easily track KPIs from many business systems such as ERP, OA and MES on large screens and TV dashboards, and gain insights into these data after analysis.
Excellent Product Experience
Integration of heterogeneous data
FineReport supports the integration of data from ERP/OA/MES and other enterprise systems in a single platform, which breaks the information silos and helps conduct comprehensive analysis to make better decisions.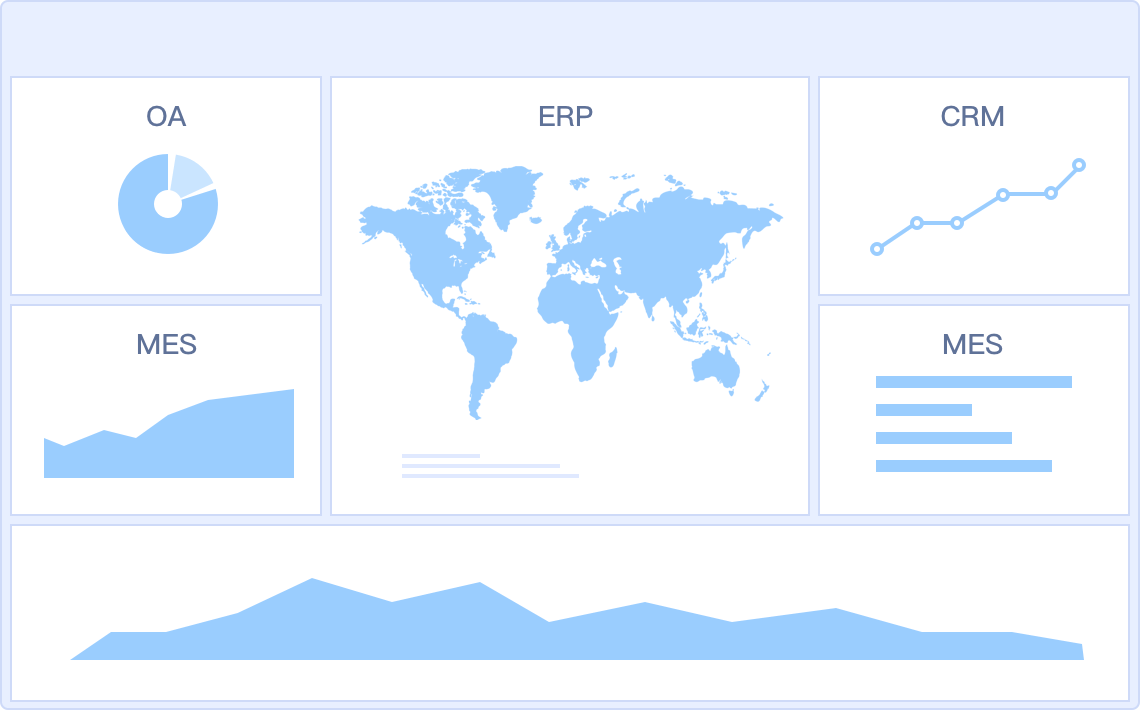 Practical Application Scenario

Contact Us

Business: international@fanruan.com

Support: support@fanruan.com
Copyright©2020 FanRuan Software Co., Ltd.